Davis High School


Class Of 1991
In Memory
Tosh Gibbs VIEW PROFILE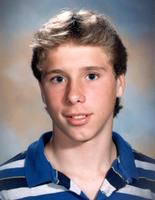 Tosh Richard Gibbs, son of Richard and Connie Montgomery Gibbs, was born July 16, 1972 in Ogden, Utah while his father was on active duty for the Army. When he was one year old his father was released from active duty and they moed to St. Louis, Missouri. He was there until his father graduated from Washington University Medical School/Hospital Administration. For elementary school, Tosh lived in Colorado, Alabama, Iowa, West Virginia, Ohio and San Francisco because his father had opportunities for training and bigger hospitals. The last move was to Chicago, Illinois. After one year, his father had a heart attack playing basketball and died instantly.
Tosh was an excellent student and good grades came easy, with little effort. Tosh attended all three years at Jefferson Junior High in Naperville, Illinois and two coaches encouraged him to join the wrestling team. He was amazing and won every match all three years. No one has been able to break his record to date. During those years, when he was a little naughty his mother would say, "Go to your room." He would pick her up, carry her up the stairs and drop her on her bed. He could also do push-ups with his mother sitting on his back. Scary!! He moved to Utah, which he was not happy about, but when the wrestling coach at Davis High saw Tosh he was immediately put on the varsity wrestling team and he lettered his sophomore and junior years. His senior year he moved to Las Vegas, Nevada and graduated from Green Valley High. He attended the University of Nevada/Las Vegas and worked in construction. He became a union representative/steward. He was also a Mason and loved all the opportunities he had with the Masons.
When he was 36 years old, he had his first heart attack, just like his father, only he was able to live a little longer. This gave him the opportunity to continue to help those in need, both in the community and various churches. He was given many service awards and loved the opportunity to help anyone he could.
Tosh passed away September 1, 2015 in Las Vegas, Nevada from another heart attack. A celebration of Tosh's life was held in Las Vegas, given by his friends. A GREAT BIG HUG goes to all of you who knew Tosh. Thank you for being his friend and caring so much. Your good deeds, love and friendship will never be forgotten and he is sharing his memories of you right now with his father and brother, Todd.
https://www.lindquistmortuary.com/obituaries/Tosh-Gibbs/photo-album
Click here to see Tosh's last Profile entry.