Davis High School


Class Of 1991
In Memory
Christopher Luke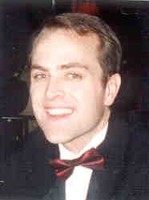 Christopher Carter Luke, 33, died in an auto accident on October 18, 2006 in SLC, Utah. He was born on May 20, 1973 to Douglas B. and Carma Carter Luke.

His beginnings marked the sign of the fighter within. He was born prematurely and spent his first several years on oxygen and very nearly lost his life numerous times. His dedicated parents helped will him on and he grew up into a strong, spunky little kid. He became an avid sports fan and a young athlete as he participated in baseball, basketball and running. He was always true to his Chicago Cubs and Utah Utes. He made many memories at his home in Farmington as he played with neighbor kids and rode his four-wheeler up the Farmington hills. He graduated from Davis High School, was an eagle scout and faithfully served an LDS mission in Oslo, Norway in 1992 and '93. He grew to love that beautiful country and the people he served. He attended Weber State University and also the University of Utah, where he attained his Bachelor's degree in Accounting. He went on to work for the Utah State Tax Commission in the Corporate Auditing Department, where he gained valuable experiences and friends. He enjoyed the opportunities his job gave him to travel and experience the world.

He spent much of his spare time reading, going to sports events with his dad, spending time with his dogs, going on "VIP" runs for Pepsis, and serving his family. He loved jammin' out to 80's music and shootin' hoops in the driveway. He had a season pass to Alta every winter, and he took every chance he could to refine his water skiing skills at Pineview. His nephews and niece will miss their kind and gentle Uncle Chris.

He is survived by his loving and devoted parents, Douglas B. and Carma Luke; his three sisters, Leslie Francis, her husband, Scott, and their son, Luke; Lori Griffin, her husband, Gabe, and their children, Lydia, Spencer and Connor; and Lisa Allen and her husband, Michael; Chris also leaves behind his Grandpa Royce, his Great Aunt Jeanne, Aunt Marion, Aunt Julie, Aunt Marti and family and many other beloved aunts, uncles, cousins and friends.

Chris reaped much good in this world and we are so grateful to have had him in our lives. He fought the good fight and kept the faith. His family will cherish the memories we have of him and we look forward to reuniting with our adored son, brother, and friend.

Funeral services were held Saturday, October 21, 2006. Interment-Farmington City Cemetery.