Davis High School


Class Of 1991
In Memory
Todd Renie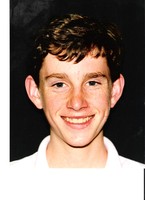 Todd passed away our sophomore year of High School. Todd would have been a member of the DHS Class of 1991.
Todd Renie, age 15 1/2, passed away of cancer of the lymphatic system on December 8, 1988 at the Nebraska Medical Center in Omaha, just hours before a bone marrow transplant.
He was a sophomore at Davis High School where he loved art and science. Todd's hobbies included building models with his Dad, hanging with his friends, and trips to Bear Lake.
Todd was the oldest of three and at the time of his diagnosis, he was helping his younger sister, Kristi, deal with her diagnosis of Leukemia. Together they shared in their fight against cancer.
Todd was kind and a friend to everyone. He faced and fought hard for 15 months. Even though the cancer took his body, it didn't change his spirit and faith that he would be with his eternal family.